Education

While opportunities to explore and learn abound along the walking trails, park spaces and lakes within the natural Tuscan Lakes habitat, just minutes down the road are superior schools - boasting some of the highest-ranking student scores in Texas.
Encompassing two notable school districts and a number of private schools, Tuscan Lakes families can create the learning environment that best suits their needs. From a broad range of early learning facilities to top universities, academic options exist for the toddler, the college bound and lifelong learner.
Clear Creek Independent School District
Clear Creek ISD is a highly educated and diverse district committed to excellence, ensuring all students graduate ready to meet the challenges of an ever-changing world with the desire to be life-long learners. In 2011, 96% of all students passed the TAKS in reading and writing, 98% in social studies, 93% in math, and 93% in science. The District is comprised of 26 elementary, 10 intermediate, and seven high schools with each campus led by experienced and compassionate administrators, teachers and support personnel.

Dickinson Independent School District

A Texas Education Agency Recognized School District, the Dickinson ISD is home to several campuses of Exemplary or Recognized status, including all six of its elementary schools.
The Dickinson Independent School District regularly produces National Merit Scholars, award-winning musicians and athletes receiving scholarships across the country. Plus, facilities in the Dickinson ISD are unmatched – more than $230 million has been invested in Dickinson ISD campuses. At Dickinson High School, work has completed on a $40-million expansion and renovation including the addition of an impressive, two-story academic wing.

Click here to read the Dickinson ISD 'Gator Bytes' Newsletter.
Click on the links below to learn more about the outstanding Dickinson ISD schools attended by Tuscan Lakes families.

Silbernagel Elementary
Texas Education Agency "Recognized" campus serving grades Pre-K to Four
Named a Distinguished Performance School by the United States Department of Education
Texas Education Agency Golf Performance Acknowledgement for Commended Performance in Reading and Math
Students compete in robotics competitions, spelling bees, science fairs and First Tee golf tournaments
Strong teacher/staff commitment to student performance and success with an academic focus on college and career readiness
Assemblies regularly recognize students for academic achievement
Principal Michael Scruggs is a former Dickinson ISD Principal of the Year
Opened in 2008, a Texas Education Agency "Recognized" campus for students 5-6
Named a Distinguished Performance School by the United States Department of Education
Numerous after-school clubs and organizations for student participation including Student Council, Rockets and Robotics, National Elementary Honor Society, sports and the arts, yearbook and drama
Strong fine arts program with competitive events inside and outside the District for students in band, choir and drama
Finalist in the Texas Middle School "Schools to Watch" program, a statewide initiative which recognizes schools that are academically excellent, developmentally responsive, socially equitable and structured for success
Principal Bonnie Fried is a former Dickinson ISD Principal of the Year and an H-E-B Excellence in Education Award nominee
All-new school, opened in 2009, serving students in grades 7-8
Campus equipped with computer technology in all classrooms, numerous science and computer labs along with a 700-seat performance auditorium with professional sound, lighting and stage properties
Gifted and Talented Program and Pre-Advanced Placement courses offered in all core-content and subject areas
Long-standing tradition of award-winning fine arts programs in band, choir and drama
Award-winning cheerleading squad for both seventh and eighth grades
One of the only junior high schools in the area with a drill team which participates at local and out-of-town competitions
Athletic programs in all major sports: football, basketball, volleyball, track and cross country
Students in elective art classes are regularly recognized in local and state art competitions
UIL 5A high school for academic, fine arts and athletic competitions
More than $40 million recently invested for a two-story academic wing, a triple-design competition gym, a new baseball complex, Agricultural Science Facility and Athletic Field House
Dual-credit classes offered on-site for college credit along with Pre-AP and AP classes offered in all four core content subjects and foreign languages
Graduating class of 2012 was awarded $3.4 million in college scholarships
Competitive Academic Decathlon program and a nationally recognized robotics program
One of the region's finest high schools for the arts; its students are routinely excel at area and state art competitions for drawings, sculptures and photography
Athletics include football, basketball, baseball, softball, golf, volleyball, swimming, track and cross country, power lifting, soccer and tennis
In 2012, the Dickinson High School Gator Band competed at the 5A level for the first time since the school moved up to the UIL's largest division

Colleges & Private Schools
University of Houston Clear Lake
University of Houston

Bay Area Christian School

Clear Lake United Methodist Mother's Day Out & Preschool

Eagle Heights Christian Academy

First Christian Academy

The Galloway School

Kiddie Academy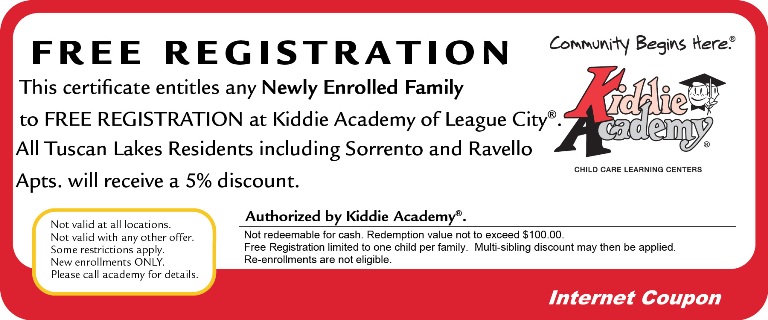 Lutheran South Academy
Westminster Christian Academy
---